How It Works
How does laser tattoo removal work?
Independent research shows that laser tattoo removal is the safest and quickest treatment available. It is also the least likely to damage your skin. In fact, some say it's less painful than getting a tattoo.
Derby Tattoo Removals we use specifically designed lasers that target the ink within the tattoo. These exclusive state-of-the-art lasers remove tattoos by breaking up the pigment of the tattoo with a high-intensity light beam. The body then slowly breaks down and absorbs the pigment.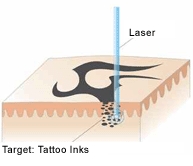 While many tattoos appear significantly lighter after the initial treatment, several visits are usually required to completely remove your tattoo. Tattoos fade after each laser tattoo removal treatment breaks down and removes the ink. Over the course of a short series of sessions, the targeted tattoo will gradually fade. Once the tattoo has been successfully removed the result is permanent.
With laser tattoo removal, colour makes a difference.
The colour used to create your tattoo also has an impact on how easy or difficult it will be to remove. A tattoo made with many different colours is usually more difficult to remove than a tattoo made with just one colour. Although we do not charge more because of this. Some ink colours are more difficult to remove than others. Black, red, dark orange and dark blue tattoos are the easiest to remove. Green, purple, brown, light orange and light blue colours may require more visits. Yellow and green are the hardest colours to remove, however our specifically trained, and fully insured staff will know the fastest way to remove them. We do work ethically and if we do not believe we can remove it we will tell you.
What To Expect At The Consultation
The consultation process takes approximately 20 minutes. You will be asked a number of medical questions and the specialist will answer any concerns and questions you may have. They will try to give you an indication of the number of sessions you may require, although that figure is only an estimation and you may require more or less. They will explain how it works, how we will help reduce any side effects or pain.
THE CONSULTATION IS FREE, MOST OTHERS CHARGE.
" I looked everywhere, for the price and attention you were by far the best. Its really good that you are so passionate about what you do, it shows" Mr P, Notts